As an award-winning Pittsburgh home remodeling construction contractor, we guarantee that you will get the best in craftsmanship and quality construction for your home makeover. Our crews and project management stand out from the remodeling contractor competition. Customer testimonials and our 24 awards verify this.
Here's what you can count on from Master Remodelers during your Pittsburgh home makeover...

"PRICELESS RELIABILITY"
Be confident with Master Remodelers that you're working with a reliable, experienced, design-build and certified Pittsburgh remodeling company. We call it "priceless reliability" that helps you sleep better at night.
Read our blog on Picking Your Remodeling Contractor for tips from industry leaders and experts about home renovation.
RESPECT FOR YOUR HOME
First and foremost we respect your home and your life. Customers use words like "courteous," "respectful" and "professional" to describe our skilled craftsmen.
And we cleanup thoroughly at the end of each day. Our goal is the least possible disruption of your life during your home makeover.
ON TIME & BUDGET
Equally important is that our company efficiently delivers what we promise. You've probably heard remodeling contractor horror stories about long delays and budget-busting renovation costs.
Our goal is steady progress and no bad surprises for you. The precise architectural plans from our in-house Design team are critical to achieving this goal. Discover the advantages of design & build in one contractor.
GOOD COMMUNICATION
Keeping you well and consistently informed during the progress of construction is another strong suit of ours. Expect regular reports, visits and phone calls from president Regis McQuaide.
QUALITY WORK
This is the true area of excellence for Master Remodelers. From choice of materials and appliances to final painting, we take great pride in delivering a beautiful and durable product for your home makeover. (Find out more about our fine Craftsmanship)
INSURANCE, PERMITS & MORE
As any professional remodeling company should, Master Remoders provides you certificates of insurance for general liability and workers compensation, as well as necessary permits. We are also registered with the Attorney General of the Commonwealth of Pennsylvania, as the 2009 Home Improvement Registration law requires: HIC# PA000027.
Call 412-341-6585 today to discuss your Dream for your home remodeling.
Or This e-mail address is being protected from spambots. You need JavaScript enabled to view it us your questions.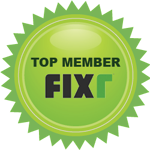 Remodeling & Construction Pittsburgh, PA